Looking to go on a vacation? Santa Cruz is a great choice.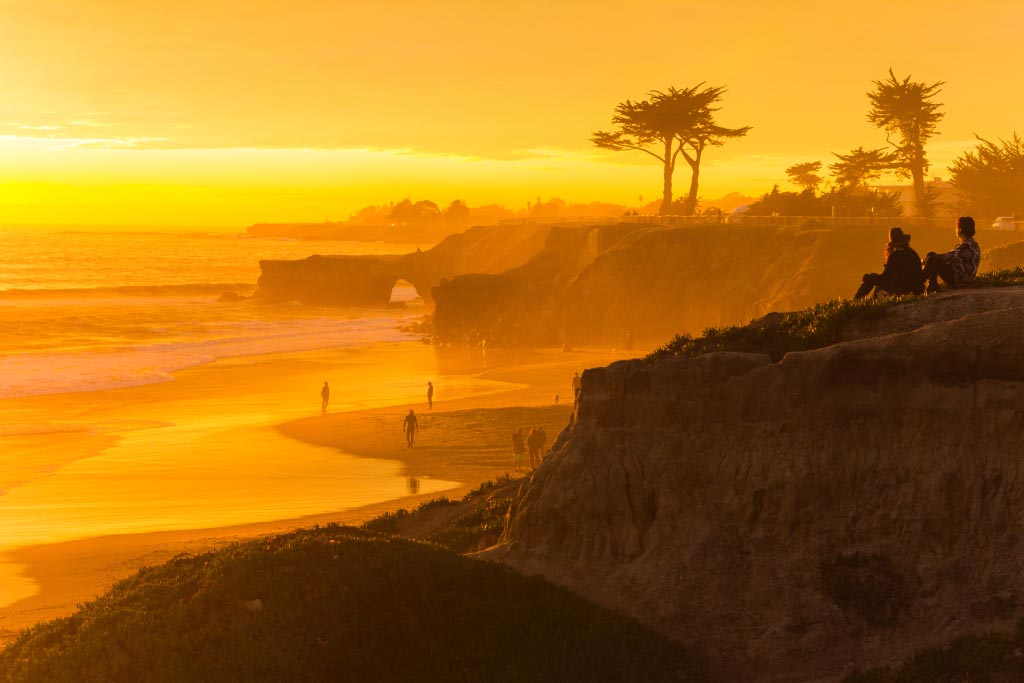 Santa Cruz is a quintessential California beach town that embodies the best qualities of the land of endless summer. This area boasts beautiful beaches with stunning sunsets, and impressive waves. In fact, it is where surfing was first brought all the way from Hawaii by Hawaiian royalty. Featuring a legendary boardwalk that is full of fun and excitement, it maintains a pedestrian-friendly environment. Santa Cruz vacation rentals are highly sought after, given the idyllic setting and lifestyle available here.
You should consider beach vacation rentals in Santa Cruz because there are few coastal towns that match the magic of Santa Cruz. There is even a sprawling wharf stretching out half a mile into the ocean, where you can look on as world-class surfing takes place nearby. You may even want to get in on the action and ride the waves yourself!
Oceanview vacation rentals in Santa Cruz have everything you could imagine desiring in a vacation rental. They feature spacious floor plans and million-dollar views that will take your breath away. You are going to love visiting Santa Cruz and spending time here, while making memories that will last a lifetime.
Vacation rentals in Santa Cruz County are trendy today, and it's not difficult to understand why. After all, there's far more to Santa Cruz than the relaxing beach vibes. While that is the main attraction for visitors to Santa Cruz, there's also more to be explored beyond the waves and sand.
More Than Just the Beach
Santa Cruz vacation rentals are all nearby wine country. When you rent a house in Santa Cruz, you will be able to readily visit one of the many wineries that dot the region. You can experience the joy and allure that wine brings, thanks to elegant tasting rooms where you will enjoy exclusive wines. You will feel at home while enjoying a completely new experience.
Beyond wine, there is also the tree-lined downtown to explore. Downtown is the heart of Santa Cruz, as well as its soul. There are plenty of charming boutique shops to pop into and look around in. You also have your pick of a cornucopia of cafes, restaurants, and coffee/tea shops. If you want to catch some entertainment, there are movie theaters, the Art and History Museum, galleries, sporting events, an impressive sculpture garden, and much more.
If you're a nature lover who loves to forest bathe, there are spectacular redwood forests that will be calling out to you when you get to Santa Cruz. All vacation rentals in Santa Cruz country are just a short drive away from towering redwoods, some of which are hundreds of years old. You will be amazed at how extraordinary the natural landscapes are in Santa Cruz.
There's plenty of hiking and camping to enjoy in Santa Cruz county. That means that you can find one of the many Santa Cruz vacation rentals available and become one with nature. When you've had enough of the beach, you can enjoy the amazing weather in a slightly different way than people usually do when they book beach vacation rentals in Santa Cruz.
Coming back to the coast, you can visit the history Santa Cruz Municipal Wharf, stretching out half a mile into the Monterey Bay National Marine Sanctuary. For more water-related attractions, you can check out the Santa Cruz Surfing Museum.
Besides lounging on the beach and the obvious surfing, you have a wealth of water activities you can enjoy as well. There is stand-up paddle boarding, which can take some getting used to. However, once you can stand on your own two feet solidly on a paddleboard, you're going to get to enjoy the ocean from a completely unique perspective.
There are plenty of opportunities for whale watching when you book one of the available oceanview vacation rentals Santa Cruz offers. Imagine seeing majestic creatures that are the largest species on the planet, and right outside of your window! You can also get some fishing in if you're an angling enthusiast. There's plenty of oceanside activities to enjoy in Santa Cruz.
Finally, if you love the Boardwalk scene, you're going to love the one in Santa Cruz. There's the iconic amusement part, which is fun for the entire family. In fact, it's known as being the best seaside park in the world! It's a vibrant and bustling entertainment venue that offers fun rides, an excellent beach, and top-notch entertainment. Indoor arcades and classic amusement park eats are all offered here. This is a Santa Cruz you won't want to miss if you book one of the available beach vacation rentals in Santa Cruz.
Come and Visit Santa Cruz
Come to see and experience everything that Santa Cruz has to offer. Book one of the many vacation rentals in Santa Cruz county to enjoy this great part of California that everyone should experience at least once. Oceanview vacation rentals are highly sought after accommodation, so make sure you book your vacation soon to get the best homes in the most ideal locations.
Find affordable rentals in Santa Cruz
Find the best vacation rentals Santa Cruz has to offer. We have great beach house vacation rentals, ocean-front properties, rentals close to Downtown Santa Cruz and more! Additionally, when you choose to use Kendall & Potter for your Santa Cruz Vacation Rental, we provide FREE activities with our partner Xplorie!
Beach and ocean view Vacation Rentals in Santa Cruz, CA
Santa Cruz is one of the best places to explore for your next vacation destination. There are so many fantastic activities to do by the beach, such as surfing, kayaking, SUP, whale watching, fishing and more! Have little ones, or want some adventure? The Santa Cruz Beach Boardwalk has great rides for all ages plus a HUGE game area with video games, pool and even laser tag!
Wineries aplenty in Santa Cruz
In addition to the world-class beaches, the Santa Cruz Mountains boast dozens of high class boutique wineries. The Santa Cruz Mountain AVA has a unique soil and climate, which produce fantastic quality grapes. Master winemakers have been producing small-lot, award winning wine for decades now, as recognition slowly spreads for the wine in the Santa Cruz, CA region.
Outdoor Activities in Santa Cruz
Amazing vacation houses, beaches and wineries aside, Santa Cruz has bountiful redwoods that make for some scenic camping, hiking and running trails. Redwood zip line tours are available for the adventurous, and then you can relax at the end of the day at a number of spas!
Kendall & Potter has been offering great Property Management Services and Santa Cruz Vacation Rentals since 1972. Contact us today for any questions you may have!